Merianto Medical hospital furniture is based on an ISO modular system using 600 x 400 mm and 400 x 300 mm baskets with the cabinet dimensions taking into consideration the modular system dimensions. Pass through cabinets are designed for baskets with a width of 600 mm and 400 mm. The cabinets are placed between two rooms and allow sending supplies and medicine from one room to the other without opening the room's doors. Pass through cabinets have synchronised locks which prohibit opening doors on both sides at the same time to ensure that the necessary air pressure and inner climate is preserved in each room.
The cabinet interior can be fitted as desired using ISO modular system baskets, shelves and drawer systems. The ISO runner panels permit easy pass through of baskets within the cabinet – all baskets are locked in an angled position. The plastic baskets have a load capacity up to 20 kg. If required, bi-directional ball-bearing runners with a load capacity up to 50 kg can be used.
The medicine cabinets are made from quality melamine. The cabinet doors open to a 220° angle.  If necessary the cabinets can be made air-tight. Similarly it is possible to use x-ray safe doors.
Options include regular and glass doors.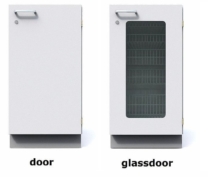 Standard options include five different finishings: