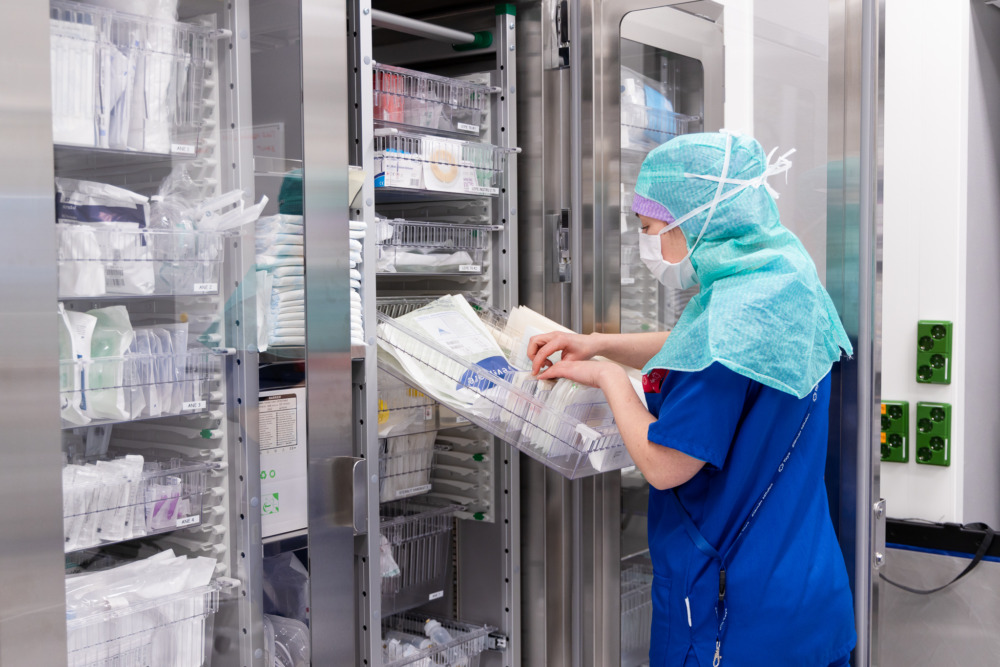 A good tool saves time and energy
Text: Karoli Noor
Photos: Andres Raudjalg
Health care is evolving and new techniques, medicines and aids are constantly being introduced to improve the treatment options for patients and facilitate the work of nurses. To conveniently find, use and transport the tools needed for work, you need suitable furniture that can be quickly adapted when necessary.
"A shelf on wheels as such is nothing new. What makes FlexShelf special, however, is its modularity, which allows it to be quickly rearranged or expanded as needs change. There are about as many possibilities as when building with Lego blocks. Needs drive ideas," says Raimo Grichin, Managing Director of Merianto Medical, the company importing FlexShelf shelves.
How does it work?
FlexShelf furniture – shelves and trolleys – is very flexible. The shelving system based on ISO modules can be assembled by anyone according to their specific needs. Adding new shelves or drawers takes seconds, and the shelf or trolley can also be easily resized. FlexShelf can be arranged into a mobile workstation by adding work surfaces on which to prepare medicines or do other tasks.
Made from ultra-light but strong and durable anodised aluminium, the frame of the shelves and trolleys makes it easy to transport medications and equipment. Despite its light weight, the shelf can bear heavy loads – one stack can withstand a load of up to 400 kilograms. The shelf is most useful when the modular drawers of a trolley are loaded with medicines and supplies in the hospital pharmacy or central warehouse, and transported to a FlexShelf shelf in the procedure room or operating room. Ideally, an empty module is removed from the shelf and replaced with a loaded module from the trolley. If the module in the shelf is not quite empty, its remaining contents can be conveniently moved to another drawer.
The contents of FlexShelf drawers can be easily organised using dividers, which means that all medicines and supplies can be taken out of their original packaging in the warehouse and stored individually in the module. This makes medicines handy and greatly facilitates the work of healthcare professionals. As the baskets in the FlexShelf shelves open on both sides, they can be easily placed in pass through cabinets – this makes it much easier, for example, to equip operating rooms with suitable medicines.
Carefully designed perfection
Entrepreneur and pharmacist Heimo Hrovat came up with the idea for the shelves ten years ago. After a long development process, testing and market research, the FlexShelf shelving system was ready, and was immediately well received on the market thanks to its careful design and high quality.
"Merianto presented FlexShelf shelves to the Tampere University Hospital staff and the company Tuomi Logistiikka, which organises drug logistics in the hospital, in 2018. FlexShelf and its expansion possibilities aroused such lively interest among the hospital staff that they wanted to test the product in practice. The tests were so successful that the hospital never returned the shelf, but ordered more shelves and trolleys for other departments. In 2019, the brand new D-wing of Tampere University Hospital was equipped with FlexShelf," says Raimo Grichin, Managing Director of Merianto Medical.
According to Vesa Kuivasto from Tuomi Logistiikka, the FlexShelf solution perfectly supports their operations. "In our work, it is important that the shelves are durable and can be rearranged according to need. Thanks to the wheels, the shelves can be moved very easily, and the ISO modular system makes it easy to place a greater range of care products and medicines, already unpacked, within reach of the nurses. In this way, we save time for the nurses and make their work easier. In the past, medicines and supplies had to be transported in their original packaging, which made it much more difficult for the nursing staff to handle them," said Kuivasto.
Find the right shelf for you
There are endless possibilities when assembling the FlexShelf shelf – you can choose between different heights, sizes, drawers, shelves and work surfaces. You can design a trolley or shelf according to your needs using a web application that creates a 3D model of your desired shelf, so there is no need to buy something sight unseen. The application is available at www.isomodulsystem.com/configurator.
If you cannot find a suitable solution there, you can order a tailor-made product. To do this, contact the Merianto Medical team. Sales Manager Andrus Loit welcomes your questions and requests at andrus.loit@merianto.com or at (+ 372) 50 181 04.
Näytä kaikki viestit