Dedicated medical furniture supports the daily work of healthcare workers
Text: Marin Soomets
Photos: Rait Tuulas
Rapidly evolving healthcare needs furniture that can be adapted to suit your needs. Among other things, the furniture must accommodate different amounts and sizes of medicine packages and accessories. All this has been taken into consideration by Estonia's own furniture manufacturer Merianto, who just furnished the Y-corpus nephrology centre and the hemodialysis department of the North Estonia Medical Centre with the latest Merianto Medical series of medical furniture with basket-solution cabinets.
.

The new rooms of the North Estonia Medical Centre are furnished with medical furniture from Merianto Medical. Large ergonomic cabinets enable nurses to do their work more efficiently. Everything is at hand and located in its proper nest, so there is no need to constantly replenish the stock.
The final furniture solutions were created in close cooperation between the PERH nurses and Merianto Medical. The modular furniture is customized and selected specifically for the purpose and characteristics of a particular room. "The new furniture definitely has a lot of advantages. In addition to looking good, the basket and drawer systems are also functional and hold a surprising amount of space. Since everything you need is within reach, the daily work in the department is significantly more convenient," said Kristina Piilman, Head of Nursing at the Hemodialysis Department of the North Estonia Medical Centre. With a specialised furniture solution, it is possible to take advantage of the entire surface area and achieve up to 60% space saving compared to ordinary cabinets.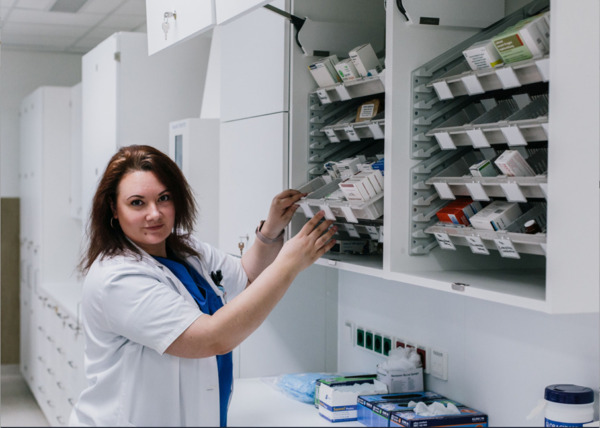 According to Kristina Piilman, the shelving and drawer systems are functional and have a surprising amount of capacity.
When using Merianto Medical's furniture with an ISO modular system, everything is in place and quickly and conveniently accessible. This reduces the time spent searching for medicines and supplies. The same medicine baskets can be used in the medicine cart as well as in cabinets. The need for repeated reorganisation of medicines will disappear, the workload and the possibility of human error will be reduced.
The baskets are in turn equipped with intermediate dividers, which can be used to separate medicines and tools easily. "The hemodialysis department has a relatively large number of non-standard sized tools, for which it is necessary to carefully adjust the drawer systems for convenience. The furniture manufacturer is there for us and continues to cooperate, because they, like us, want to achieve maximum ease of use," Piilman added.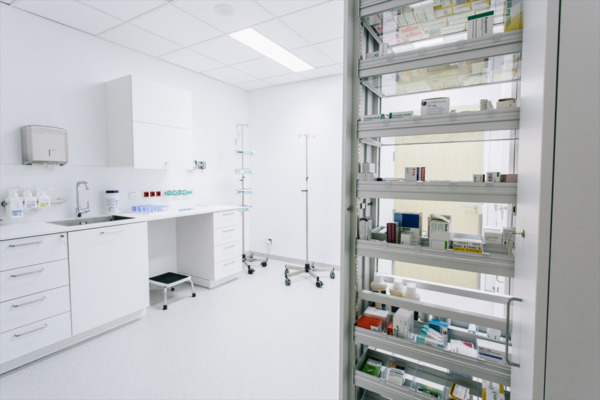 Merianto Medical's medical furniture is ergonomic, saves space, and is tailored to the specifics of the job whilst enabling the nurse to quickly access the desired medicine or tool.
The introduction of every new solution tends to be unfamiliar at first, and takes time. "We are there for our customers even when the furniture is already installed. We help organise drawer systems so that the use of new furniture is as comfortable and convenient as possible," encouraged Andrus Loit, Export Manager at Merianto Medical.
Varje Mantsik, Head of Nursing at the Nephrology Centre of the North Estonia Medical Centre also agreed, and added that it always takes time to get used to a new solution. She continued: "At the moment, we are in a period of immersion, but it is undeniable that the new furniture is beautiful to look at, and the drawer and shelving systems are also very convenient to use."
"North Estonia Medical Centre is well aware of the possibilities offered by modern medical furniture, and was extremely professional in preparing for a successful procurement process," acknowledges Raimo Grichin, Head of Merianto.
Näytä kaikki viestit